The Cost of Success
Looking back on 2017 I am so grateful to have had a year that was professionally fulfilling: I achieved a long-held dream by becoming a best-selling and award-winning author; I dived out of my comfort zone by giving fifty-five media appearances on television, radio, and the press; and my Pawsitive Book Tour was a success. Woohoo!
But as much as these moments fulfilled me on a career level, I also felt more stressed, was often overwhelmed, and the time spent away from home and dedicated to my projects chipped away at my family life and relationship with my husband.
As I consider what my goals will be for 2018, I know that there is a lot I want to accomplish such as writing another book, doing a TEDx talk, and giving workshops. I've determined that my mission in life is to have the greatest pawsitive effect on the lives of animals and the humans who love them yet I also want to experience the happiest life I can possibly have. But can I find fulfillment and still maintain balance and happiness? Can anyone?

I Know I'm Not Alone
My quest for happiness, balance, and fulfillment is one you might be able to relate to. Last year I did a survey and found what most people wished for in life was…
Less stress and more happiness
Less busy-ness and more quality time
Less technology and more connection
Quite simply, people's greatest desire is to be happy. And despite the chaotic, frenzied, and turbulent world we currently find ourselves living in, I believe our animal friends can help us find the way to that happier life.
So in 2018, my intention is quite simply…to Stay Pawsitive. I am committing to recognize, nurture, and celebrate pawsitivity as a means to create more and consistent happiness in my life. And I'd like to share what I discover with you through my blog, my bi-weekly Simply Pawsitive Show on YouTube, and other top secret projects I'm currently working on but will reveal in the weeks to come.
What's Pawsitivity?
Pawsitivity is a practice to help the animal lover embrace an optimistic mindset. One of my life's greatest joys is the connection I have to the animal world and in particular, the animals in my home who teach me so much about living pawsitive no matter where and when the bumps and lumps in life occur. 
If we are fortunate to share our home with an animal companion, this is a good beginning. But we still may not be aware of the countless ways they can be our teachers to discovering greater pawsitivity in our lives. Animals always seem to find a way to make the best of life, to rebound from difficult circumstances, to play more, to live in the present, and to love unconditionally. Anyone of these qualities can lead to greater happiness for their human friends. And this is what I would like to explore, embrace, embody and share with you in 2018.
If you resonate with this message, I encourage you to join me as My Pawsitive Project evolves in 2018. I'd love for you to share your stories, your questions, and your insights of how your animal friends help you stay pawsitive in your daily life. In a world that seems to become more chaotic, negative and confusing, we need as much pawsitivity as we can generate. Together we can help each other to be healthier, happier, and yes….more pawsitive too!
Stay Pawsitive,   Carlyn MDO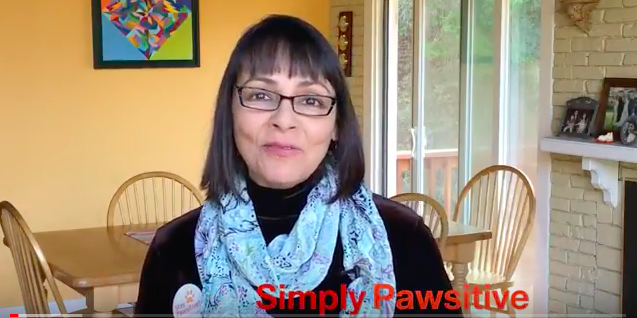 Watch This Week's Simply Pawsitve Show! 
Looking For a Purrrrrfect Holiday Gift? 
Share the Pawsitivity on facebook, twitter, and Pinterest by sharing this fun meme. Just drag and drop!