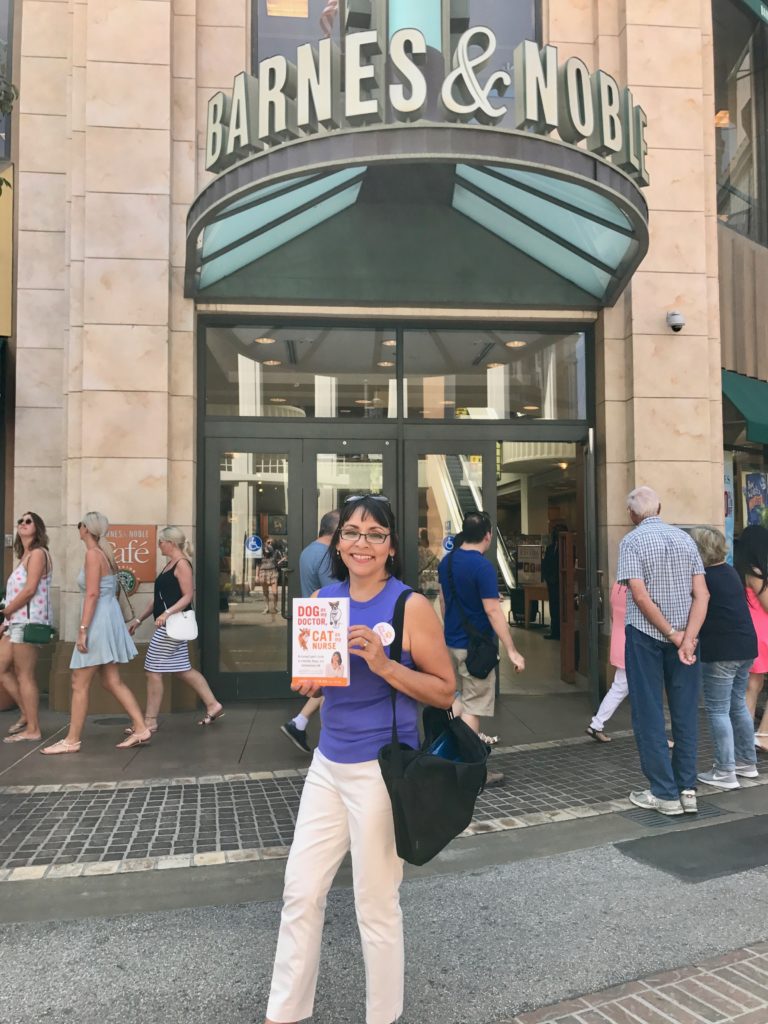 Last week, after a whirlwind blitz through Los Angeles and Sacramento….
The "Dog as My Doctor, Cat as My Nurse," Pawsitive Book Tour came to an end. For someone who has always loved animals, has wanted to help them in a unique way, and dreamed of writing a book, this experience was a peak moment of my life. What was so special about going on a book tour that took me through the entire state of California and up into Oregon?
Let me share some of the highlights
My Super Co-Sponsors: At every bookstore along the way, I was met by an animal rescue group or shelter, and accompanying them were some wonderful dogs and cats. These furry friends were in search of their forever homes and some of them were fortunate enough to find them amongst our audience members.
Giving is Receiving: 50% of my book proceeds at every event went to benefit a rescue, shelter or animal welfare organization. By the end of the tour, we raised hundreds of dollars for these non-profits.
Speaking Doesn't Kill You: I found my presentation skills improving with each book talk and reading I gave. They say public speaking is more frightening than death but speaking my message week after week made it less about public speaking and more about talking to an inspiring community of animal lovers who share a passion for our furry friends.
You Gotta Friend: I was deeply touched by the many two-legged friends who came out to support me. Old friends from high school, college mates from my film school days, family members I don't see very often, and colleagues from the movie business emerged from the past to cheer me on. It was amazing.
The Gold Ribbon: I am proud to say that Dog as My Doctor, Cat as My Nurse not only became an Amazon Bestseller in two categories but it has also won a couple of awards – A Living Now Book Award and an  International Book Award.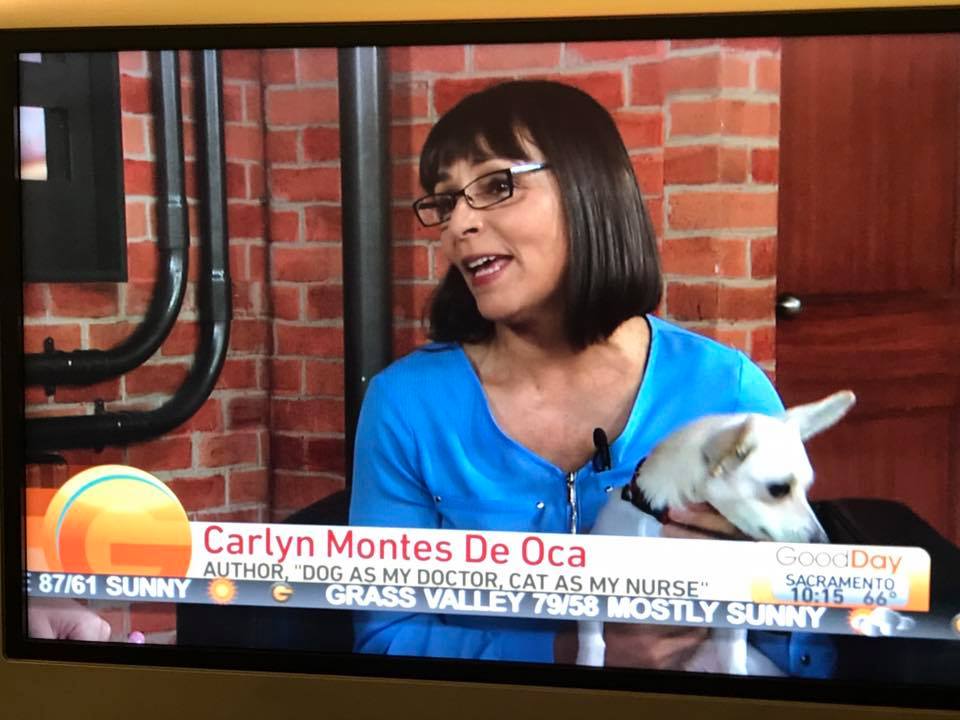 I'm Ready For My Close-Up Mr. De Mille: For the last 3 months, I have not only been talking at bookstores but I've also given dozens of radio, press, and tv interviews. And boy, have I learned a lot!  Such as…
1. If you bring a dog with wet paws onto a tv set with you, like I did on Good Day Sacramento, then those cute paw stains will undoubtedly end up on your blouse a moment before you're on the air. Hold said dog in front of the stain and the thousands of people watching won't be the wiser.
2. If you show up for a book reading and none of the equipment works including the microphone, take a deep breath, smile, and deliver your presentation with all your heart. Passion is what the audience hears and remembers.
3. If you have a name like Carlyn Montes De Oca, don't expect the anchorman to pronounce it correctly.
It Takes a Village To Be a Writer
I am filled with gratitude to all of the people who have helped me on this journey directly by contributing stories, reading pages, my publicist, publisher, editor, friends, and family. As well as indirectly – people who have reached out on facebook, sent me emails or even stopped me on the street to share their stories or to tell me how my book has touched their lives. I am deeply humbled.
A most special thanks go out to those who cannot read and don't know a thing about books; the dogs and cats of my past and in particular my 6 pack of animal friends who inspired me to write this book – Cody, Teddy, Roxy, Rudy, Dakota & Jester. If I had understood their secret language of purrs, woofs, and nudges, I would have written my book a long time ago.
To those of you who have a dream, a special project, something that you long to give birth to and you are an animal lover – look to your animal friends for a nudge of inspiration, and a dose of courage. They are always beside us, waiting for us to wake up to be the best we can be. I will always be grateful to my animal friends for walking beside me on this path, which is truly just the beginning. There will be more books, more speaking, and more paying it forward.
Stay tuned and stay pawsitive!
Carlyn
Watch This Week's Simply Pawsitive Show!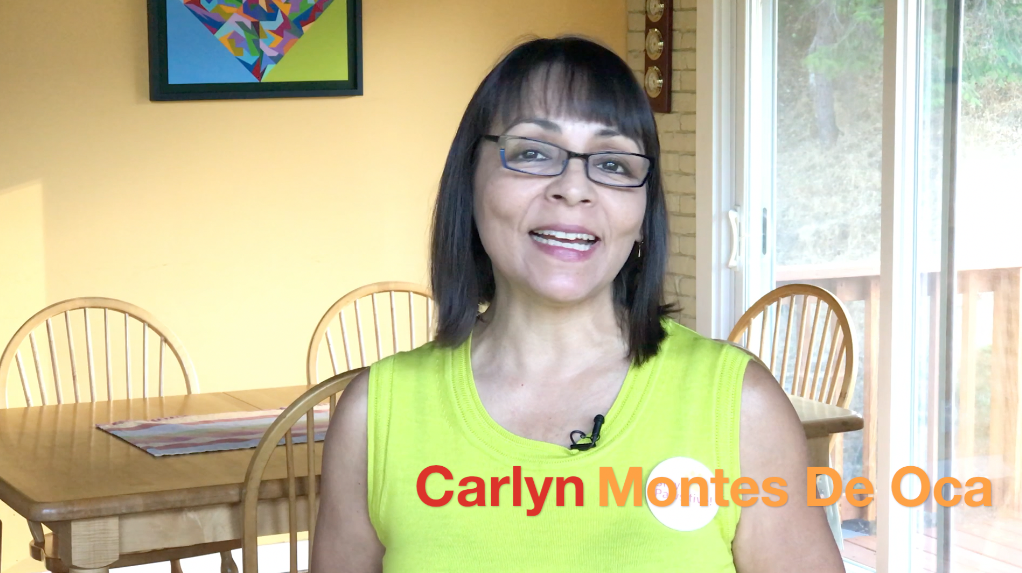 Purchase  Dog As My Doctor, Cat as My Nurse here!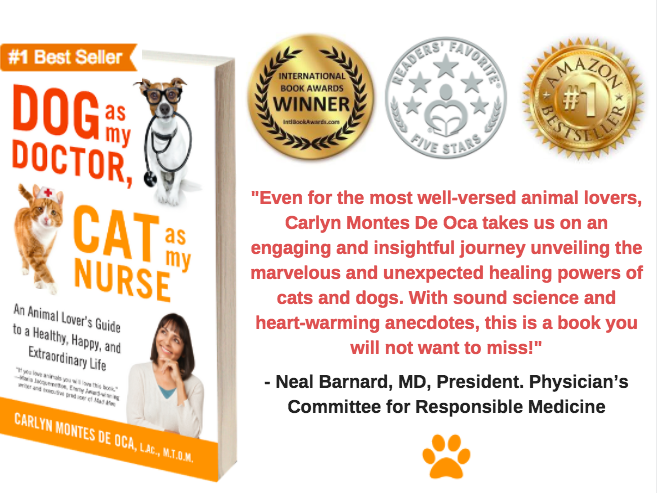 Carlyn Montes De Oca is an author, speaker, animal-human health expert, acupuncturist, and plant-based nutritional consultant. A former film editor on such movies as Honey, I Shrunk the Kids and Three Men and a Little Lady…. Read Carlyn's full bio here